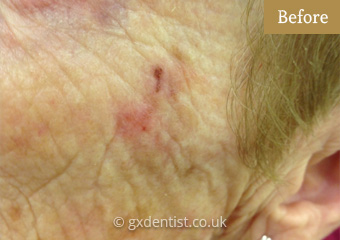 This patient had a long-standing (longer than 5 years) sun-damaged skin ulcer. She was 82 years old and had tried 'everything' to heal the area, with her GP advising her that no treatment was required.
After 3 PRGF treatments spread over a 3 month period, notice also the general improvement of the patients skin. The patient reports that her skin now appears 'clearer and brighter'.

An 11 year old boy with crowding of his upper teeth, and the result after wearing an upper removable orthodontic brace for 10 months. Notice the change in the shape of his dental arches, the alignment of his four front teeth and the creation of spaces ready for his adult canine teeth to come through.