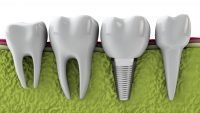 Have you replaced missing teeth with dental implants? Dental implants provide a strong, flawless and lasting solution for people who have lost their teeth. The more you care for your implants, the longer your crown will last and so will your smile. Here are simple ways of taking care of dental implants to ensure they last for life.
Key takeaways:
– Do everything that your dentist tells you, from how to clean your mouth to what you should eat.
– During the healing process, avoid very hot or cold drinks, don't poke or roughly brush the site but ensure there are no food particles around the implant.
– Once you are healed, brush with a soft bristled toothbrush and non-abrasive toothpaste, use unwaxed tape floss and regularly utilise a mouthwash.
Protect your smile by regularly visiting the dentist for check-ups and following instructions.
Learn more at:
http://yourdentalhealthresource.com/how-to-best-care-for-your-new-dental-implants/